Halloween Contest
Carithers Flowers
Atlanta, Georgia
The annual Halloween contest at Carithers Flowers was held today. Everyone at the flower shop really had a great time, customers and employees included. The winner of the contest was Kristin Crowder. Congratulations to Kristin and to all the folks at Carithers who participated.
Carithers Flowers is a family owned and operated flower shop. They have been in business for more than 40 years. The Halloween contest has been a long standing tradition and has always created lots of fun and enjoyment from the employee group. Carithers customers who happen to visit the flower shop on Halloween day, always seem to enjoy the event as well.
Fall Flowers Are Now Available At Carithers
Carithers Flowers is located at 1708 Powers Ferry road, in Marietta, Georgia. They also have additional warehouse and administrative offices located in Atlanta and surrounding areas. Carithers has been voted Best Florist In Atlanta for the past 14 consecutive years by Atlanta area residents and business owners who have participated in the Consumers Choice award voting.
Flyline Search Marketing is extremely proud of our affiliation with Carithers Flowers. We provide a comprehensive set of marketing services to Carithers and have served as the marketing agency since January of 2009. The service package we provide to them is specifically designed to support floral design centers. We serve a number of nationally acclaimed florists, located throughout the United States, such as; Veldkamp's Flowers in Denver, Colorado, Allen's Flowers in San Diego, California, Flowerama in Columbus, Ohio and Allen's Flower Market in Long Beach, California.
Carithers Flowers Halloween Contest Participant Group Photo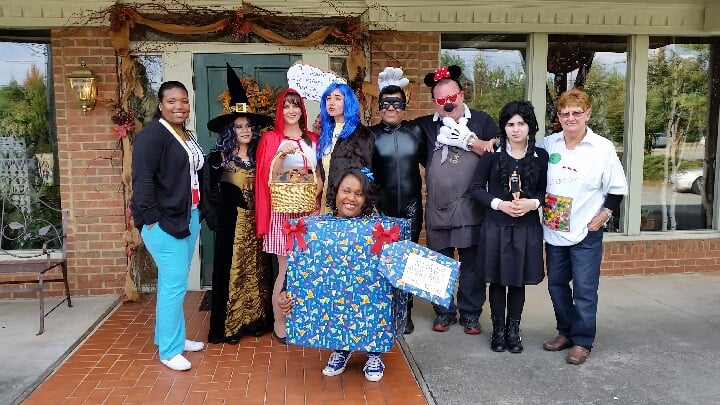 More Great Photos From The Day
[one_half last="no" class="" id=""]
[/one_half]
[one_half last="yes" class="" id=""]
[/one_half]
[one_half last="no" class="" id=""]
[/one_half]
[one_half last="yes" class="" id=""]
[/one_half]
Choose which costume you think is the best. Please use the voting buttons displayed under each photo below to cast your vote. We appreciate your feedback. 
 Thank you for sharing your opinion with us!
[sharing tagline="Share This Story, Choose Your Platform!" tagline_color="" title="" link="" description="" pinterest_image="" icons_boxed="" icons_boxed_radius="4px" box_colors="" icon_colors="" tooltip_placement="" backgroundcolor="" class="" id=""][/sharing]