Carithers Flowers
Using Broadcast Media To Spread Holiday Cheer
We just completed several new radio advertising spots for Carithers Flowers. The spots are running on WSB 750 am and 95.5 fm. The Georgia Gardner, "Walter Reeves," and the owner of Carithers Flowers, "Charles Carithers," are both featured on the holiday ad spots. We wrote and recorded 15 second, 30 second and 60 second spots in support of our Christmas and Holiday marketing program for Carithers. We invite you to listen to them by clicking on the links below.
New Christmas & Holiday Ad Spots
Holiday Contest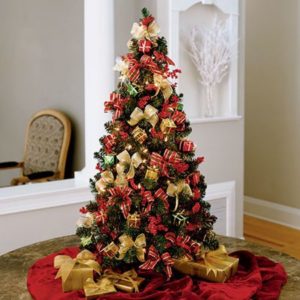 In addition to running the new advertising spots, we are also promoting a Christmas and Holiday contest on WSB as well. This season, send in your photos and a short story, explaining your favorite Holiday memory. To enter, go to the WSB website (http://www.wsbradio.com/s/contests/). Tell Walter Reeves your favorite Christmas memory for the chance to win. The beautiful decorated christmas tree shown to the right will go to the grand prize winner. This stunning Christmas Tree will be the talk of the neighborhood this holiday season.
All submissions will be judged by Walter Reeves. He is planning to select the winners just before Christmas. The winner will receive a gorgeous Decorated Miniature Christmas Tree From Carithers. There are also prizes for the top four runner-up participants. These folks will receive a beautiful Christmas floral arrangement. All prizes will be designed and delivered by Carithers Flowers, absolutely FREE of charge!
Hear The Contest Winner Announcement By Walter Reeves
Announcement of winners took place on Saturday, December 20, 2014.
If you haven't already purchased a Christmas present for everyone on your list this year, we encourage you to visit the Carithers Flowers website to see all of the great Christmas and Holiday gifts they offer. The nationally acclaimed floral design team at Carithers creates some of the most beautiful and unique flower arrangements found anywhere in the country. Take a look at a few of the floral arrangements they are offering this holiday season.
Christmas & Holiday Flowers
Flyline Search Marketing is the advertising agency for Carithers Flowers. We have been under contract with Carithers Flowers since January of 2009. Our team handles Internet Marketing, Broadcast Media Buying and Social Media programs for Carithers. We also deliver website design and optimization, along with a mirad of other consulting services we provide. You can see a sample our our web design work for Carithers by visiting the new wedding site we just finished a few month ago. To visit that site, go to Carithers Wedding Flowers.
Carithers Flowers was the first floral design client to sign an advertising services agreement with us. Over the past few years, we have taken on quite a few new flower shop clients.  In fact, marketing for florists is now an advertising line that we specialize in. Our comprehensive marketing program for florists is arguably one of the very best in the floral industry. The program has delivered incredible results for Carithers. It helped to propel them from a small family owned business, into one of the largest flower shops in the Southeastern United States. Our strategically designed program is now being used to support other florists, located in some of the most competitive markets in the country, including; Albuquerque, Columbus, Denver, Long Beach, Reseda and San Diego. In every case, the program has produced excellent results. Each florist in our group has been able to increase sales transactions, improve their gross and net revenues and achieve more dominant positions within their local service area.
[sharing tagline="Share This Story, Choose Your Platform!" tagline_color="" title="" link="" description="" pinterest_image="" icons_boxed="" icons_boxed_radius="4px" box_colors="" icon_colors="" tooltip_placement="" backgroundcolor="" class="" id=""][/sharing]