Rain Metal Systems, Inc
Just put the finishing touches on a brand new website. We created a new site for Rain Metal Systems, Inc. They operate a firm out of West Georgia that offers Metal Roofing and Gutter installation and repair. The company is family owned and operated by Mr. Jeff Hudgins. Rain Metal Systems offers all types of metal roofs. They specialize in hi-tech roffing such as Copper, Corrugated Metal,  Tin, Aluminun, Galvalume and Steel.
The website is built on a sophisticated WordPress framework that is fully responsive. In essence, the website is designed to alter it's display to provide the best possible experience for Desktops, Laptops, Ipads, Tablets, Iphones, Androids and other smart phone devices. When the site renders for a smartphone, it actually creates a true mobile site design that is aesthetically nice and extremely user friendly.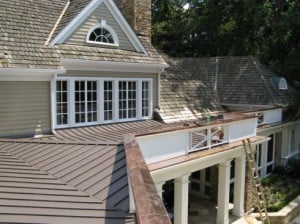 The folks at Rain Metal Systems, Inc. have been a customer of ours for nearly five years. We support them by providing website design and management services, Pay Per Click program management and website optimization. The website will provide their prospective customers with useful information and a great portfolio of high definition photos of jobs recently completed. The site is also designed to allow customers to easily communicate with the principles at Rain Metal Systems in requesting Free Estimates for work they need done at their home or office.
Rain Metal Systems provides services for both residential and commercial applications. They are famous for the work they do with Copper. Check out the photo just to the left of this text.  They installed an incredible copper gutter system for a homeowner in the Atlanta metropolitan area. The copper gutter project was completed using all copper fixtures, including the unique collector heads featured in the photo. Rain Metal Systems serves West Georgia, North Georgia, the Atlanta Metro area and parts of Tennessee and South Carolina.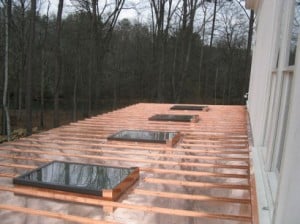 Another really cool project they worked on was the installation of a beautiful copper and glass roof. The roof also has a number of built in Skylights, set in copper framing. This particular project was done for a residential homeowner in the Atlanta area.
We created three photo galleries on the website to help customers of Rain Metal Systems to see the great work that they do. We built a gallery for Metal Roofs, another for Gutters and a third for Under Deck roofing installations. We plan to update the home page design to eventually include a responsive slider so that customers will be able to glean even more valuable information about Rain Metal Systems from the home page. The website has a full featured Customer Management System that is extremely user friendly. Our client has full access to the CMS and also has been given access to the C-panel account as well. We created a number of email accounts for the customer, with forwarders set-up per the customers instructions. The monthly hosting account we provided for Rain Metal System cost only $29 dollars per month.
More Photos From The Website
[sharing tagline="Share This Story, Choose Your Platform!" tagline_color="" title="" link="" description="" pinterest_image="" icons_boxed="" icons_boxed_radius="4px" box_colors="" icon_colors="" tooltip_placement="" backgroundcolor="" class="" id=""][/sharing]